The Rise of the Natural, Organic and Eco-friendly Mattress
The rising popularity of natural, organic and eco-friendly mattresses has finally begun to catch on. So much so, the philosophy of 'being-more-green' is going as far as to influence the dynamics of the mattress market. This small yet important change is encouraging for the world, by prioritising sustainable options with what's natural and healthy, for both the individual and the environment. It seems mattresses are becoming a prime example of this enlightened consumer shift, and long may it continue.
According to a Technavio market research analysis report, Europe has seen a large rise in demand for natural, eco-friendly mattresses. Clear signs showing how the unrivaled benefits of all-natural, organic mattresses are proving their worth with European consumer choice and satisfaction. The prevailing benefits of comfort, health and the environment, being the 3 key unique selling points.
However, in the UK, the rules are slightly different. Ashamedly, there is no law that issues mattress manufacturers to explicitly state all substances which have been added within their mattresses. 
Therefore, many mattress companies claim to have natural mattresses for sale, when the truth is, these so-called 'natural' mattresses are not so natural at all. In-fact, did you know, 95% of foam mattresses are made with chemicals, glues, fire-retardants, and micro-plastics? Yes, that's right, now, that doesn't sound too good, does it?
As bad as these chemicals and unnatural components are upon the environment, it's also concerning to consider all of the potential detrimental health impacts they can cause. Fire-retardant chemicals alone have been linked with cancer, endocrine disruption, cardiovascular disease, infertility, cognitive delays and even hampering child development. 
Going 'au naturel' with your mattress isn't just some snobby-yuppy-hippy vibe, but is the only way forward to ensure complete sustainability for the planet, complete comfort for the sleeper, as well as – and most-importantly – complete safety for yourself and family.
So, now you know it's only worth considering 5% of the market, what genuine natural mattresses are available in the UK? And which one is the best natural UK mattress? We will come to this shortly, but firstly and foremost, just to clear any confusion, what is a natural mattress?
Did you know, only 5% of mattresses out there are Natural?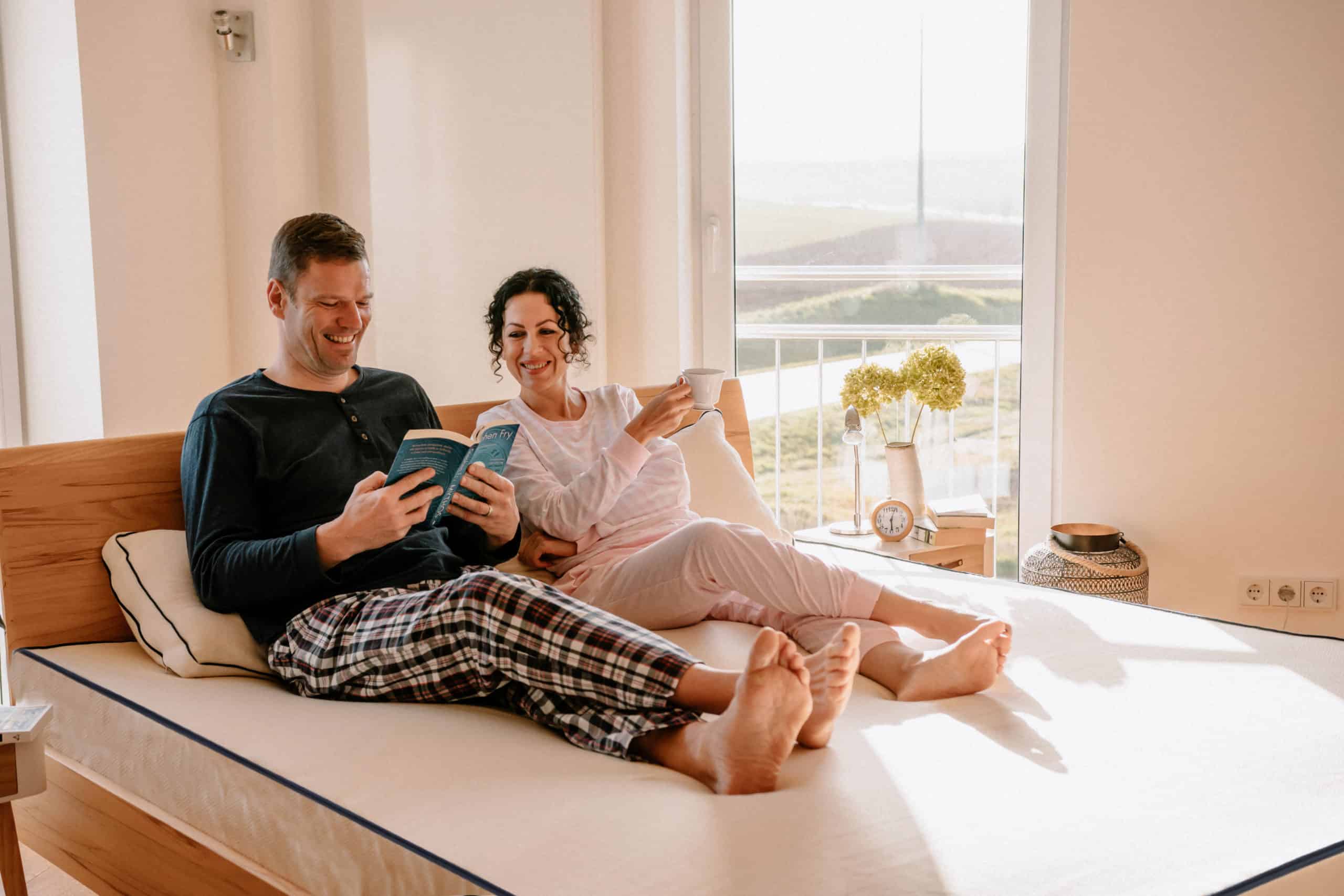 Well the other 5% of mattresses out there, we can call 'natural mattresses', made entirely from natural and organic materials. This is not only great for the environment, but great for your health and well-being too. Types of natural mattresses include cotton, wool, latex and plant-based materials. These materials are often combined to create an all-natural hybrid blend. Be careful though! Many of the so-called 'natural' hybrids will often still include synthetic substances within the foam and materials. You should be sure before you buy. Sometimes, it can be a case of inquiring further into the production methods used for the mattress by the company.
There are also false allegations which state that there can be no such thing as a completely natural foam mattress. This is a lie. Some mattress manufacturing goes the extra mile to deliver 100% natural, luxury, and eco-friendly mattress foam. Organic latex mattresses are an ideal example of how some mattresses are far more superior than others.
What is a Natural Latex Mattress?
If you didn't already know, latex is a milky fluid found in 10% of all flowering plants (angiosperms). The most common example is tree sap taken from the rubber tree, which has remained a prime source of rubber production for centuries.
Seeing as latex is a completely natural material, it has great potential to remain so, while being organically produced and environmentally sustainable. However, many latex products such as gloves, clothing, condoms etc, mix the latex with toxins to create synthetic latex. This is no different with mattresses, where we see the majority of latex mattresses on the market being made using synthetic latex foam.
Due to the natural flexible properties of latex, the substance provides a perfect foundation of comfort, while its durability means it lasts longer and is ideal for pressure and pain relief. Latex is also naturally hypoallergenic and a very breathable material, meaning it combats allergies, mold, bacteria, and stays cool, even in the height of summer.
The best natural latex mattresses are organically certified. This is to ensure all methods in the manufacturing process include only 100% natural materials, fair-trade, and environmental sustainability.
What is the best Natural Latex Mattress?
The best natural latex mattresses will be organically certified with a gold-standard, issued by GOLS (Global Organic Latex Standard). An exceptional example of such mattress manufacturing in the UK is our very own, Una Delux.
Here at Una Mattress, all of our mattresses are 100% certified organic latex mattresses. This means you can rest assured and sleep soundly, knowing no dangerous or poisonous toxins will ever enter the atmosphere of your bedroom. Furthermore, when it comes to comfort, there simply is not a batter range of mattresses on the market. But how are our mattresses made?
Una mattresses are made from comfy layers of all-natural latex foam, each with 7 zones specially engineered to gently support your body's contours. All of this is encased in a super-soft, organic wool and cotton cover that allows air and moisture to circulate naturally so you won't ever get too hot and bothered. 
When it comes to the pursuit of purchasing the perfect mattress, look no further than Una as your number 1 provider.
Learn more from our mattress & lifestyle blog here:
Organic Latex Mattress: 5 Reasons to Buy One Today