100% ORGANIC

100 NIGHT HOME TRIAL

Why Buy Una Organic Mattress UK?

DREAMY COMFORT: BEST ORGANIC LATEX MATTRESS UK
Your Una mattress is made from  comfy layers of all-natural latex foam, each with 7 zones specially engineered to gently support your body's contours. All of this is encased in a super-soft, organic wool and cotton cover that allows air and moisture to circulate naturally so you won't get hot and bothered.

CUSTOMISABLE COMFORT, 3 FIRMNESS OPTIONS
Softer? Medium? Firmer? You decide. Easily Assemble Your Una Mattress The Way You Like it. Comfort Layers (Firmer, Medium, Softer) unrolled into the super soft zipped cover in the order you prefer. 

GOOD FOR YOU, GOOD FOR YOUR FAMILY
There's nothing nasty in an Una mattress. Our 100% certified organic materials mean there are no toxic-smelling fumes or harmful chemicals – you can lie back and breathe deeply and easily, right from the first night.

GOOD FOR THE PLANET TOO, ECO-FRIENDLY
As well as being healthy for you, Una mattresses are kinder to the environment. The natural latex is tapped from groves of sustainable Hevea trees and the cover is made from certified organic wool and cotton. All traded fairly.

100 DAY FREE MATTRESS TRIAL, FREE RETURNS
We're confident you'll love your Una Mattress™ so we give you 100 nights to try it at home risk-free or have it collected and receive a full refund.
THE UNA MATTRESS™
Made from 100% organic high-quality materials. It has multiple layers of varying firmness and 7 zones tailored to optimise comfort for the complete body
SHOP THE MATTRESS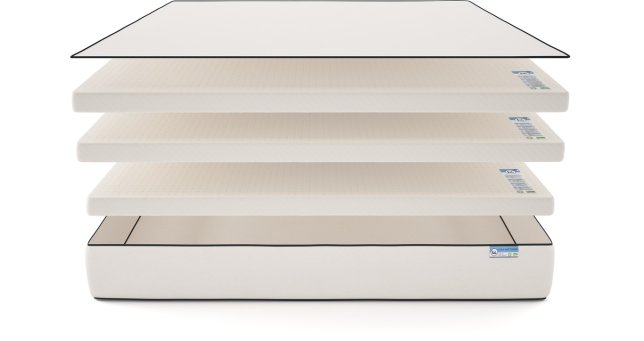 PARCELED IN A BOX

100-NIGHT HOME TRIAL

10-YEAR WARRANTY

APPROX. 7 WORKING DAYS