Non-Toxic Mattress UK
Design & Engineered in Germany: No chemicals – healthy alternative, strictly organic certified.
Your benefits with an Una Mattress™:
Sleep like a prince or princess:


Choose a non-toxic latex mattress with adjustable firmness, to find the perfect fit for you, or your family.

Healthy for you and the planet:


Only the finest natural organic certified materials — no chemicals, fire retardants, or microplastics.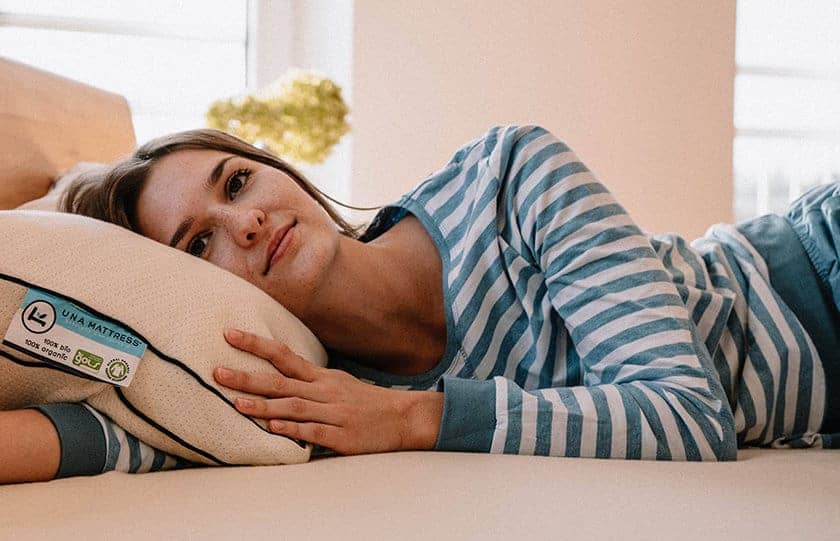 Click below to watch the video
Non-Toxic Mattresses UK
Our non-toxic mattresses are made from 100% natural and organic latex foam — a healthy, natural alternative to man-made mattress fillings like memory foam. Our natural latex is collected from rubber trees and developed into mattresses using eco-friendly manufacturing techniques.
We have paid careful attention to each element of our chemical-free mattresses to ensure they are organic and eco-friendly from top to bottom. As well as natural latex, we work with chemical free cotton, wool, and other natural fibres. If you're looking for a non-toxic mattress which is comfortable, healthier for you and your family, and sustainably made, look no further!
What is a non-toxic mattress?
Non-toxic mattresses are mattresses that are manufactured without the inclusion of any toxic materials. They have been designed to offer a healthy mattress alternative to ones made with synthetic fillings, which can have a negative impact on the environment, as well as the person sleeping on them.
Synthetic mattresses, and ones manufactured with man-made materials like memory foam, often contain chemicals that can be released into the surrounding environment through a process known as 'off-gassing'. These chemicals can be part of the composition of the materials used, or be added to make the mattress more flame-retardant, for example.
Non-toxic mattresses are made using entirely natural, organic and sustainably sourced materials. Una's collection of chemical-free, natural latex mattresses have all the benefits of memory foam, without any of the harmful additives and due to the natural compounds found within latex, there are a number of benefits to be had.
What are the benefits of a non-toxic latex mattress?
Natural, non-toxic latex mattresses are manufactured without any of the added chemicals or fire retardants mentioned above. We make our chemical-free mattresses with materials that are found in nature, they are typically healthier and safer for you and your family to sleep on.
Latex has a number of properties which make it perfect for mattresses, such as being naturally hypoallergenic, antifungal, and antimicrobial. This means that latex is highly resistant to mould, and its tight cell structure also makes it uninhabitable for other nasties.
For instance, dust mites thrive in traditional sprung mattresses because of their open-air spring system and loosely constructed layers. However, the solid foam core of a natural latex mattress is a natural dust mite deterrent. This helps to create a healthy, allergen-free sleeping environment, allowing you to sleep better and feel better.
To learn more about latex mattresses and whether they are right for you, feel free to visit our complete guide to latex mattresses for more information. Or browse our full collection of natural latex mattresses to see which is the best fit for you.
Why buy an Una Mattress?
Una mattresses are made with natural materials only — including organic latex foam, as well as organic wool and cotton. Our non-toxic mattresses are 80% more breathable than those made with synthetic foam, and we use no glue or adhesives of any kind — just high-quality stitching and production.
We pride ourselves on using traditional mattress-making techniques, so that the quality of the final product is equal to that of the materials we use to make them. Because of this, our healthy mattresses are long-lasting, do not lose their shape and provide superior comfort and support to your back.
Latex foam also helps to support proper spinal alignment as you sleep by distributing your weight evenly across the surface of the mattress and conforming to the natural shape of your body. The soft, cotton cover is cool to the touch and highly breathable, whilst the mattress's natural ventilation maintains a fresh sleeping environment.
As we use no unnecessary chemicals or toxic materials, there are no chemical odours and no chance of off-gassing harmful chemicals around your home. The goal of Una Mattresses is to help you sleep fresh, in a way that is sustainable for you, your family and the planet.
You can shop our full range of chemical-free latex mattresses, including baby and junior size mattresses, at our online mattress shop.
What common toxins do standard mattresses contain?
Unlike non-toxic mattresses, standard mattresses can contain a variety of chemicals — many of which are not harmful, but in large amounts have been known to have negative effects. You may have opened up a mattress and experienced a very strong smell. This is likely to have been from chemicals and materials used in manufacturing.
Toluene or Methyl benzene, a hydrocarbon most commonly associated with paint thinners. Prolonged exposure to this chemical has been found to trigger asthma in some people, and even to affect developing foetuses in utero.
Other chemicals commonly found in mattresses are: 4-Aminobiphenyl, 4-trans-pentyl-cyclohexyl, Acetone, 1,1,1, 2-Tetrachloroethane, Asbestos Fluorinated polymers, Azoxylbenzene, Benzonitrile, Beryllium and Compounds, Carbon Tetrachloride, Cellulose nitrate plastic polymers, Chlorofluorocarbons, Chloroform, Chromium and Compounds, Cobalt and Compounds, Cyanide, Dimethylacetamide, Dimethylformamide, Dioxins and furans, Epichlorohydrin, Glycol ethers, Halogenated benzenes, Halogenated napthalenes, Halogenated triphenyls, Halons, Haologenated idphenyl ethers, Hexachlorobutadiene, Indium, Lead carbonate, Lead hydrocarbonate, Lead sulphate, Magnesium, Methylene dianiline, Molybdenum, Organo-tin compounds, Perfluorocarbons benzene, Phenylcyclohexane benzidine, Polychlorinated phenols, Rhenium, Rubidium, Samarium, Strontium, Tellerium, Thallium and compounds, Toluene diisocyanate, Toluene–neoprene, Vinilideine chloride and Vinyl acetate.
What fire retardants can standard mattresses contain?
Unfortunately, there are some manufacturers that use a highly toxic fire retardant in their mattresses, simply because it is cheaper than using a non-toxic fire retardant. Among the dangerous chemicals found in these toxic fire retardants are:
Boric acid, a toxin known to inhibit development and reproduction;
Antimony, which causes heart and lung damage and is a suspected carcinogen;
Decabromodiphenyl Oxide, which causes hair and memory loss and is very possibly carcinogenic.
All these harmful chemicals can be absorbed into the environment, or even into your skin through mattress covers. Depending on the strength of the chemical, this can lead to skin irritation and rashes, as well as more serious conditions. Fire retardants in significant quantities have been linked to learning deficiencies, memory loss, cancers, organ damage, birth defects and even sudden infant death syndrome (SIDS).
Other harmful chemicals used to make mattresses fire retardant are; Vinylidene Chloride, Bromine, and Formaldehyde which between them are responsible for skin irritations and discolouration, burns and blisters, ulcers, symptoms of drunkenness, blurred vision and eye damage, lung congestion, liver and kidney damage, tumours, pulmonary oedema, pneumonia, convulsions, and diarrhoea.
Although these are extreme examples, it is always best to investigate the mattress you are going to purchase. If you're concerned about negative effects from flame retardant chemicals, a natural or organic mattress may be the best choice for you.
For more information about flame retardant chemicals and other bedroom hazards, feel free to visit our article about the benefits of choosing an eco-friendly mattress in 2021.
What else could a standard mattress contain that I should watch out for?
It isn't only chemicals and bacteria that can be sneakily concealed within our mattresses. It may not bear thinking about, but standard mattresses can fall prey to a couple of unwelcome visitors in the form of insects.
Bed bugs are small, flea-like insects that can make their home in the crevices of mattresses, the filling, or even in your bed frame. Like fleas and lice, they bite and feed on humans, and the first sign that you have them may be once you notice a bite — by which time it is often too late!
There are a number of pesticides and methods that can be used to purge bed bugs from your sleeping environment, but it can be a long and difficult process to remove an infestation. It can certainly be done, but for your peace of mind, you may choose to opt for a new non-toxic mattress made with a natural bug repellent.
Dust mites are far more common than bed bugs, and less harmful. They are tiny, spider-like creatures that are less than one millimetre in length and feed off dead skin cells left behind by humans. This makes mattresses an ideal spot for them to live.
A single gram of house dust can contain up to 100,00 dust mites, however they are relatively harmless. However, their waste can be irritating to people who have allergies or are sensitive to dust. An allergic reaction to dust mite faces can leave you struggling to sleep and seriously impacting your wellbeing.
Figures from the American Lung Association suggest that between 50 and 80% of all asthma and hay fever cases are triggered by an allergic reaction to dust mites. However, the American Academy of Allergy Asthma and Immunology (the AAAAI) recently concluded that mattresses made from natural materials are far less likely to cause allergic reactions than those made from synthetic materials.
The close texture of latex mattresses make them hard to inhabit for both dust mites and bed bugs, whilst the material is naturally hypoallergenic. Our chemical-free mattresses can be a great option for those with allergies, and feel free to visit our article on the subject if you would like to learn more about purchasing an allergy-safe mattress.
Adjustable firmness – on two sides in a unique mattress
Premium mattress with 7 zones
Belly sleeper, side sleeper, back sleeper – restful sleep in any position
100% natural: no chemicals, no microplastics
Free UK mainland deliveries & returns
Easy delivery & returns in 3 handy sized small boxes
Which mattress is right for me?
" Best mattress ever. Very comfortable and great that you have the choice of soft, medium or hard and easily able to change them around for each side. "
Jenny C
Una Mattress™ Organic
Essential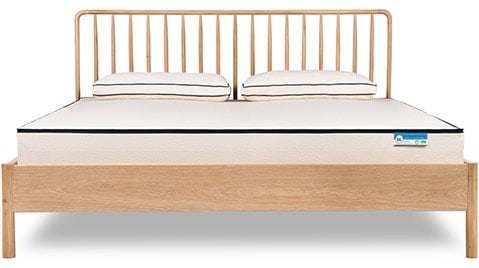 Una Mattress™ Organic Essential
From £650
(or £163 per month with 4 payment installments)
Great All-Round Organic Mattress
3 Organic Foam Layers
Medium D85 & Medium-Soft D75 Layers
2 Firmness Configuration Options
18cm Height, all sizes available
Max Weight 90kg or 14 Stone per person
Una Mattress™ Organic
Delux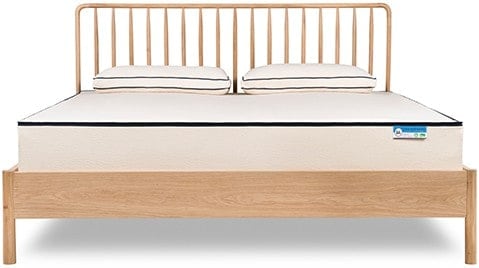 Una Mattress™ Organic Delux
From £850
(or £233 per month with 4 payment installments)
Extra Luxurious Organic Mattress
4 Organic Foam Layers
Medium D85, Firm D95, & Soft D75 Layers
6 Firmness Configuration Options
24cm Height, all sizes available
Max Weight 125kg or 20 Stone per person

"Brilliant mattresses, firm yet forgiving, much more comfortable than so-called memory foams or contour-hugging mattresses, and they just FEEL great... they have that X factor that makes you really enjoy lying on them." - Kevin H

"Without doubt the best thing I have purchased in decades. This is money well spent. The mattress is so comfortable, and it feels just as heavenly to know it is made from such amazing materials. Amazing team at UNA too. Thank you so much; I love it and so does my sleep." - Kate