The UK's first organic and carbon neutral certified mattress is healthy for you and for our planet
With many years of experience and the constant optimization of our sustainable processes, we offer you and thousands of customers a 100% organic carbon neutral certified mattress. This is unique and should be the most important reason to choose our products. Below you will find 10 more reasons why our products are the best combination of luxury, quality and sustainability.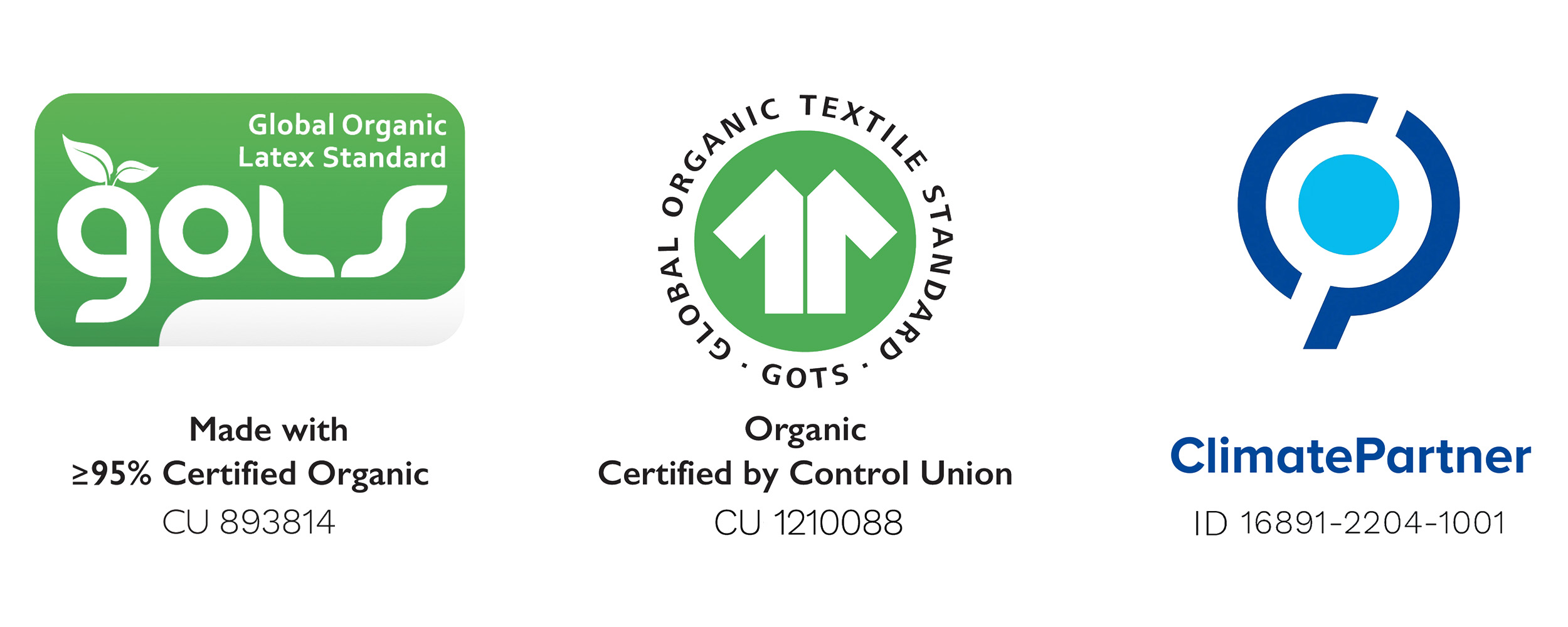 The air in your home can be 5x more polluted than the air outside
Chemically manufactured products and products that are processed with nasty chemicals and other toxic substances have a strong negative impact on human health. By releasing chemicals in the form of gases, abrasion or oxidation, conventional products contaminate our drinking water, our food and our environment, including the air. Where is the risk? With the fact that we spend over 90% of the time in rooms. When working, playing with the children, studying or sleeping. As you probably know, you spend a third of your life in bed. But we can do something simple about it: Let's get these chemical products out of our home for better wellbeing and health. Starting with an Una mattress in your bedroom.
All of our organic mattresses, pillows and toppers are fully GOTS certified. GOTS is a production standard that guarantees that all of our materials, manufacturing processes and our products are completely biological and organic. Each of our certificates contains the corresponding certification number.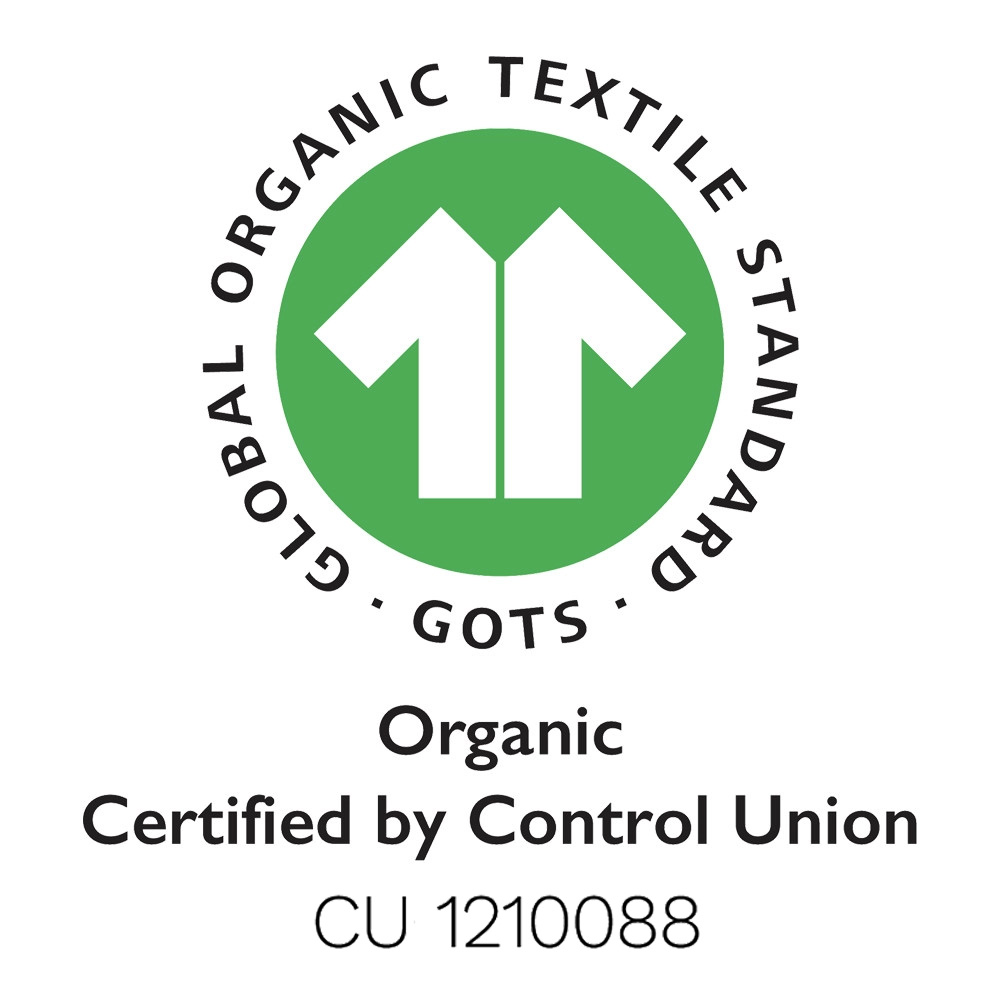 In contrast to conventional synthetic foam, we produce our own natural latex foam with the special GOLS organic certification. This means that our natural latex is also certified for its organic purity. We use the milky sap of our organically grown Hevea trees. This is then processed into foam in a steaming process and poured into mattress form.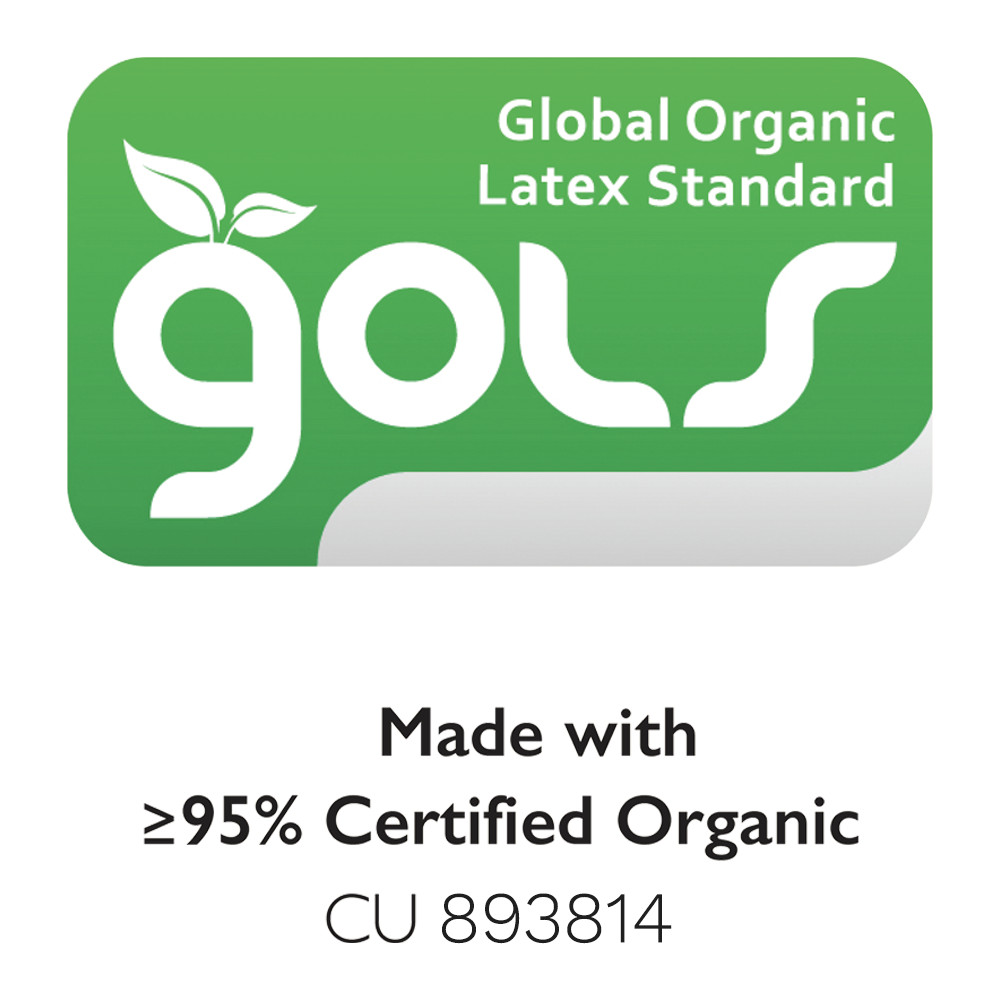 We only use organic cotton, also 100% GOTS certified. No synthetic materials whatsoever. This not only has the advantage of being free of pesticides and other nasties and needing 91% less water to produce but also significantly improves the breathability of your mattress.

"We had been looking for a mattress for about a year, but after much research I stumbled across Una. I have waited a year to see if the comfortable bliss we found when sleeping on their mattress would subside and all I can say is it has been the best money we've ever spent. So much so I bought their pillow for my husband who now sleeps like a log." - Viviene
All of our materials are designated non toxic. That means we never use chemicals. Neither for the rearing of the trees, for the growth of the cotton, for the production of the mattress, or anywhere else. We use a little wool and natural carbon instead of the usual chemical flame retardants. In addition, there are no microplastics, no petrochemicals or glues. Our covers also do not contain any plastic or polyester. 100% organic cotton,wool and latex guarantees a completely organic and healthy product range.
4. Good for your healthy back
A good mattress keeps your back healthy. At Una Organic we use a special 7-zone technology that provides optimal support for every body type. It allows the mattress to adapt to your contours without compressing. This way you can use your mattress for many years, even if something changes in your size or weight.
Different layers for the perfect firmness level
Our mattresses and pillows are equipped with different layers that you can easily arrange as you like. You get up to 6 adjustable levels of firmness in the Delux model and 2 in the Essential. If the firmness is not yet 100% perfect, simply test a different arrangement of the layers.

"Without doubt the best thing I have purchased in decades. This is money well spent. The mattress is so comfortable, and it feels just as heavenly to know it is made from such amazing materials. Amazing team at UNA too. Thank you so much; I love it and so does my sleep" - Kate
5. 99 out of 100 in the durability test
LGA Test: Consistent high quality
Our products are tested under the German so-called LGA test. This test certifies a consistently high quality product. It tests the quality and durability so we can confidently say: You are getting a high quality certified product! Warranty: Our high quality production standards mean you also get a 10 year warranty on our mattresses! In fact from our testing and customer feedback we know our mattresses can often last as long as 20 years making them the most durable and in their industry.
6. Made in Germany

Handmade in Southern Germany
Our organically certified production workshop is located in the Bavarian town of Mainbernheim. We are very proud of the fact that all our products are manufactured there according to the highest certified standards.
Many mattress retailers from whom you can order online simply want to produce quickly and cheaply. For example, they use cheap latex foam that is only partly natural and not organic or they use regular polluting cotton that uses pesticides and insecticides and 91% more water. And while others reduce their quality in order to stay as cheap as possible, we increase our quality. We use the best materials such as organic cotton and latex and YKK zippers. And hand-sewn covers ensure the highest quality throughout our product range.
7. CO2 negative – Supporting our climate
The man-made climate crisis is no longer a secret. Greenhouse gases warm the globe and our atmosphere. Climate catastrophes such as droughts, floods, extreme rainfall and the melting of ice in the polar circles are the result. So much time goes by while we wait for governments to do something. We're not waiting, we're taking action now!
CO2 negative – We give back to nature more than we take
We reduce our CO2 emissions so much that we are CO2 negative. This means that our carbon neutral production and the use of the Hevea trees for our natural latex means that we give back more than we take. In short, our trees and our offsets absorb more CO2 than our production and transport emits. Climate Partner regularly audits our manufacturing processes, packaging, transport and more and certifies that we are climate neutral as one of the first companies in this industry.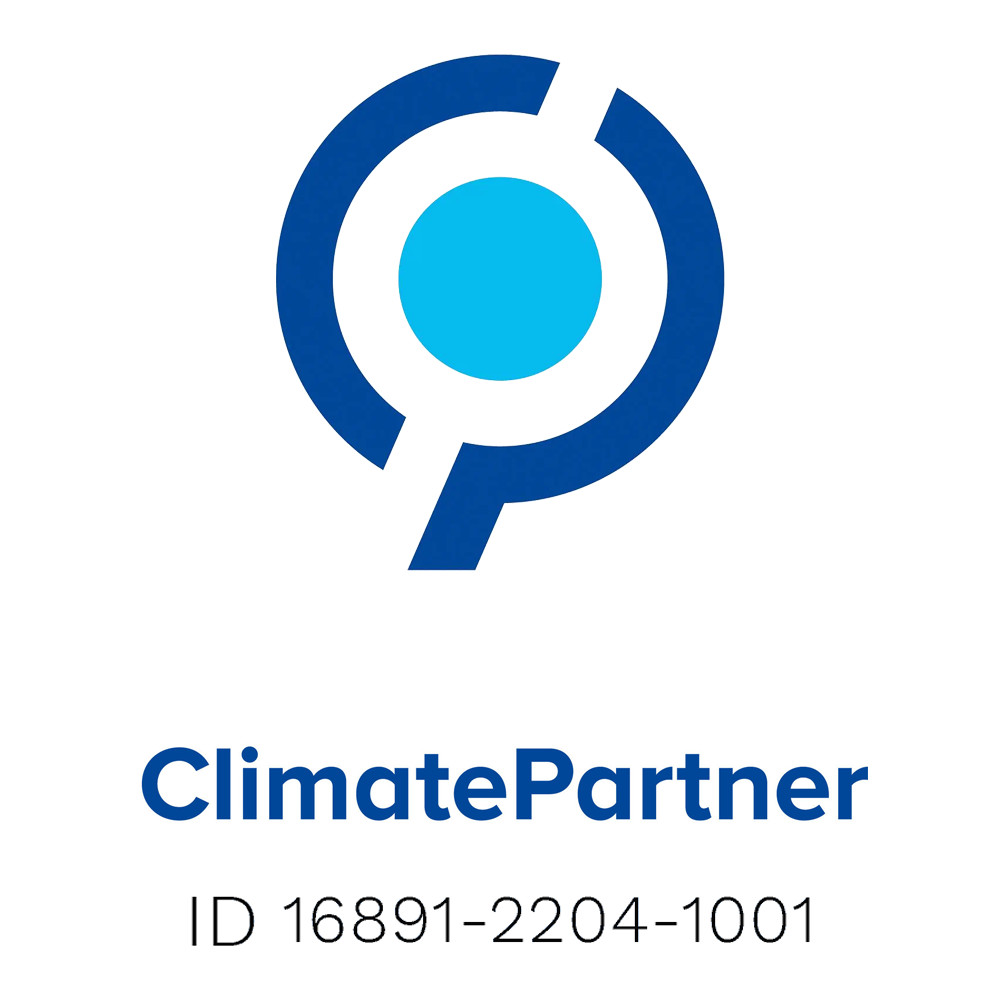 Our tree plantations are set up in such a way that we carefully maintain and use the trees for many decades. We continue to grow new trees that absorb a lot of CO2 and at the same time give many animals a habitat free of pesticides and the like. That is why our tree plantations are also organic certified.
Conventional mattresses cannot be recycled
Mattresses are basically the largest item in a household that cannot be recycled after use. This mattress waste is difficult to process and to dispose of in an environmentally friendly way. Our mattress is different: it is 100% organic and therefore completely biodegradable and recyclable. Since we do not use any synthetic foams, micro plastics or toxins, our mattress could in theory even be left to degrade although we recommend upcycling the materials for cushion filling and all other creative uses! In addition, An Una mattress lasts as long as up to 4 regular (synthetic) mattresses saving a lot of waste.
Respect and fairness for all
Fair and safe work in all of our locations in the UK and around the world is important to us. That is why we have also been certified to guarantee fair and equitable working conditions.

"Brilliant mattresses, firm yet forgiving, much more comfortable than so-called memory foams or contour-hugging mattresses, and they just FEEL great... they have that X factor that makes you really enjoy lying on them." - Kevin H
As you can see from all the certifications, it is extremely important to us to offer our customers a genuine science tested eco friendly product. With this rigorous data and test driven approach we want to enable you to make a well informed decision and ability to compare us with other brands. We are an honest brand and rely on authenticity: Our photos, our materials, our advertising. Everything is authentic.
See what other customers say about us
There is nothing more useful than real feedback from real customers. Read what our customers have to say about Una Organic here.
10. 100 Nächte Probeschlafen
Träum dir dein eigenes Bild
Du kannst deine Matratze selber testen. Deine persönliche Meinung zählt. Wir können dir noch 20 Gründe für Una Organic aufschreiben. Jeder kann erzählen, "unsere Matratzen sind die besten". Doch mit uns kannst du es selber bestimmen, wie gut sie für dich sind. Schlafe 100 Nächte zur Probe auf deiner neuen Matratze. Teste die verschiedenen Härtegrade, spüre die weiche Bio-Baumwolle und wenn es nicht passt, kannst du sie kostenfrei von uns abholen lassen.
Does our dream meet your dream?
Test our Una mattress for yourself. Your opinion is all that matters in the end. We can easily write down 20 more reasons why Una is a good choice. Everyone can say, "our mattresses are the best". But we say "try it out for yourself and notice the difference". In the comfort of your own home. Test the different adjustable firmness levels, notice no chemical smells, feel the soft organic cotton and if you're not 100% smitten, you can have it picked up by us free of charge and get a full refund.
Test drive Una mattress at home. Order your healthy mattress and get a good feel for it on your bed. Without time pressure. You can try it out for 100 sleeps. And even if on day 99 you tell us "It's not quite right for me after all", we will come and collect it for free and give you your money back.