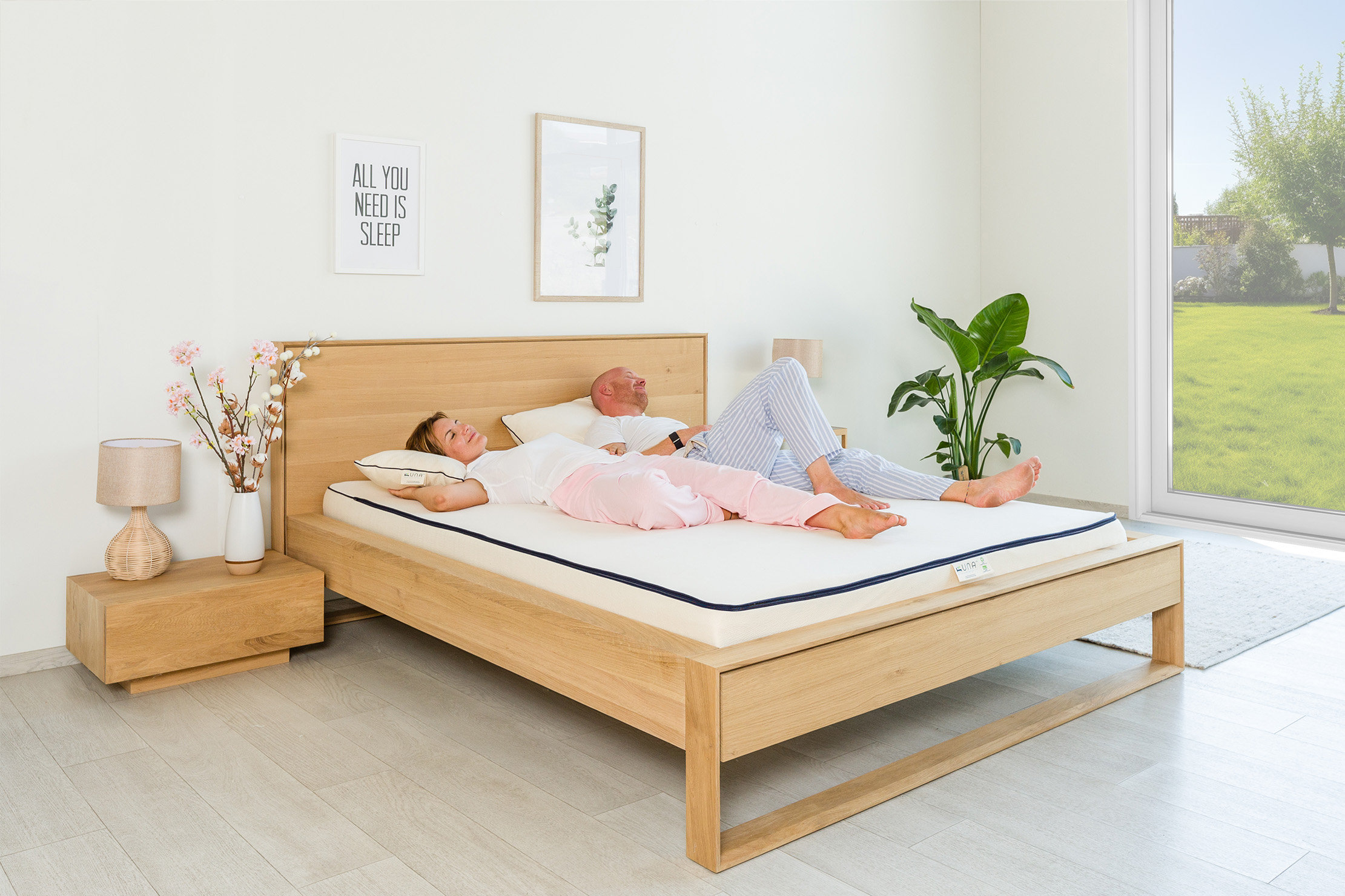 Our materials
We chose only the absolute best materials for you: Completely natural, organic and high-quality materials that are good for you and your health. Materials that are grown sustainably.
All of our mattresses and sleep products are made exclusively from natural organic certified latex foam. It is made from an all-natural sap that is gently tapped from organically managed Hevea trees. The sustainable extraction of natural latex serves as a good livelihood for many people in Southeast Asia. To obtain the natural latex, a slight cut is made in the Hevea Brasiliensis tree so that the so-called latex milky sap can flow out. This is then collected in small bowls. In order to produce an adult mattress, you need a single day harvest of around 1500 trees. The trees are not harmed in this process and live for a long time. All these trees absorb hundreds of tons of CO2 a year and provide an excellent habitat for many animals. We are working against deforestation, for climate protection and to provide many decent jobs.
Natural latex has many advantages:
Pollutant-free and environmentally friendly

Natural latex (that does not have synthetic latex added) does not contain any chemicals and is a 100% renewable raw material.

Good point elasticity and durability

Due to the unique properties of natural latex it easily moulds to the contours of your body and quickly returns to its original shape as soon as you change position. (so you don't feel stuck like with memory foam)

Breathable

Natural latex is a very breathable material (80% more than synthetic foams) and ensures that you do not wake up in a sweat at night.
We use pure organic cotton for all of our mattresses, pillows and toppers. It is naturally breathable, does not require any synthetic additives and does not make you uncomfortably hot while you sleep. Organic cotton is made without chemical fertilizers, insecticides, pesticides or herbicides and uses 91% less water than regular cotton. Much better for you and your health and, like our organic latex foam, a renewable raw material.
The benefits of organic cotton
Open-pored material for the best sleeping temperature

The open pores of the natural organic cotton allow the air to circulate optimally at night. So you will neither be too cold nor too warm.

Breathable against moisture

We all lose moisture at night. Our organic cotton absorbs this moisture away from your mattress and releases it back into the air keeping you in a fresh and comfy sleeping environment.

No chemicals and dignified working conditions

Our organic cotton is grown without the use of chemical nasties. This protects the environment, your health and that of the workers on our organic cotton farms. If you have any questions about our organic materials just get in touch. We are here for you.