So you might have decided to make the shift to latex and forego the traditional memory foam or box spring mattresses. Congratulations! 
Now that you are shopping for your new latex mattress, you would have found out that latex mattresses can be pricier than their regular counterparts. A solid latex mattress can be a big investment but justified, considering we spend a third of our lives in bed.
Only Buy Pure Latex
With some maintenance, your latex mattress will last for many more years. The first thing to remember is to only invest in 100% pure and natural latex. A well-constructed, 100% certified pure natural latex mattress has a lifespan of approximately 20 years, in contrast to foam mattresses that need to be replaced every 5 to 7 years. 
Beware as well of marketing jargon that incorrectly label some mattresses that claim to be pure natural latex but still contain additives and chemicals or industrial fillers. Ensure that you purchase only from a reputable mattress maker whose products hold an independent, trusted certification.
A well-constructed 100% pure latex mattress will last for decades, and will be free of harmful flame retardant chemicals, acetone, formaldehyde and other potentially damaging chemicals. 
Latex foam comes from the sap of rubber trees and is resilient in nature. It holds its shape even after years of daily use without sagging or losing shape around the edges. 
Cost Savings From Going Latex
At first glance, mattresses made of polyurethane foam, otherwise known as "memory foam", seem to be the cheaper option. They are mass produced and made of poorer quality industrial materials. 
It also tends to lose shape quickly and start to sag after a few years of use, and typically have to be replaced every 5 to 7 years. 
Some reputable latex mattress manufacturers are so confident in the quality of their product that they will give a 10 year warranty.
Factoring the cost of the multiple foam mattresses you'll have to buy for every ONE latex mattress, suddenly the initial cost difference doesn't seem that large, does it?
Quality Of Materials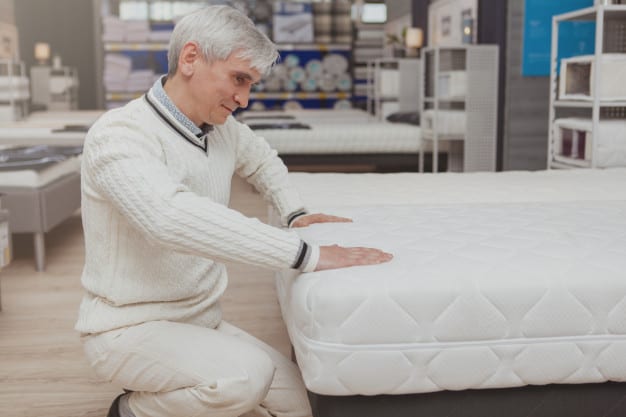 As mentioned before, unfortunately some unscrupulous business practices make inferior products sound good. The advertising and marketing jargon can easily be tweaked to convey a different impression to the unsuspecting buyer that didn't do enough research. 
Not all latex mattresses are created equal.
More specifically, latex mattresses are typically made from a blend of natural and synthetic latex in various ratios. Such products can be marketed as "100% pure latex" which actually means a blend of synthetic and natural latex. You want 100% pure and natural latex, period. 
Ensure that your mattress provider is transparent about their materials, manufacturing process and certifications. The GOLS (Global Organic Latex Standard) is a key certification to look for, as is the GOTS (Global Organic Textile Standard). 
Attaining the GOLS certification not only ensures that the farming and manufacturing process was evaluated, but also that the raw materials are certified organic. To achieve GOLS certification, a product must contain more than 95% of certified organic raw material. 
GOTS stands for Global Organic Textile Standard and applies to materials such as cotton and wool. It is the worldwide textile processing standard that includes ecological and social criterias and backed up by independent certification of the entire textile supply chain. 
The aim of the standard is to ensure the certified organic status of textiles from the raw fibres, to environmentally and socially responsible manufacturing, and even includes post-manufacturing labelling to ensure honesty to the end consumer. 
Maximizing The Lifespan Of Your Latex Mattress
Now you've bought your latex mattress, here are a few tips to increase its' lifespan:
Solid latex mattresses are heavier than spring or foam. A strong, solid foundation is essential, and if you are using a slatted foundation, keep slats less than 2.5 inches apart.

Even though 100% pure latex is naturally hypoallergenic and resistant to bacteria and other microbes, cleaning your mattress regularly is never a bad idea. Sprinkle some baking powder on your mattress and vacuum regularly to maintain the integrity of the materials and to keep it fresh and clean.

Keep pets, drinks, food and smoke away from your bedding. You might love eating and drinking in bed but a spill is a pain in the butt to clean up regardless of the mattress material. Think about getting a mattress topper or protector that shields the mattress from accidental spills and drops. 

Flip it from top to bottom around every six months or so. Latex is great at maintaining its shape but constantly rotating back to front and top to bottom ensures that pressure is evenly spread out throughout the years.

Protect the mattress from direct sunlight. When washing sheets and covers, lay a blanket over the mattress to protect it from sun exposure, that can break down latex over long periods of time.

Ask your manufacturer whether Dunlop or Talalay latex is used.

Dunlop latex

tends to be denser in composition and more durable than Talalay. Talalay also cannot be produced 100% naturally, resulting in a structure that is less dense than Dunlop, and therefore less durable.
When Do You Need A New Mattress?
Well you did everything right and in spite of your best efforts, nothing lasts forever, including latex mattresses! How do you know it's time for a change?
You wake up with stiffness, aches and pains, particularly in the back and shoulder areas. This is a clear indication that your mattress might not be as supportive as it once was.

The mattress starts to feel lumpy and you start to notice indentations or bumps on the surface of your mattress. 

The mattress starts to sag as the latex loses its support and elasticity over time.

You wake up wheezing. People that are sensitive to

allergies

may start having reactions to the dust build up and other allergens that accumulate over a long period of time.