The most comfortable 7-zone emperor mattress




Our Una Mattress™ Delux. is available in the emperor mattress size. At 200 cm width and length, that's over six feet of outstanding comfort in every direction!
Emperor mattresses are perfect if you're a couple sharing a bed, are a little on the tall side, or just appreciate having a truly open sleeping space. Free your body and give yourself all the space you need to stretch, fidget and relax.
Our emperor mattresses are made with 100% certified organic materials, including a luxuriously soft natural cotton and wool blend cover. The core consists of natural latex foam, which conforms to the contours of your body for superior comfort and support.
Our mattresses are also fully customisable, with multiple interior layers that can be rearranged for either a softer or firmer feel. Experience the comfort and space of an Una emperor mattress, while putting your sleep and wellbeing first.
Frequently Asked Questions
How big is an emperor mattress?
An emperor mattress measures 200 cm by 200 cm — or 6 feet and 6 inches. Emperor mattresses are as wide as they are long, meaning there's plenty of cosy surface area to spread out and relax.
Emperor mattresses are the largest commercially available size of mattress — and even then, they are quite uncommon to see! To compare them to the second-largest size, an emperor mattress would give you an additional 20 cm of space when compared to a Super King, which is 180 cm by 200 cm. It may not sound like much, but we're sure that you'll notice the difference — especially if you share a bed!
In the UK, mattress sizes are as follows:
| | | |
| --- | --- | --- |
| Mattress Size | Size in feet and inches | Size in centimetres |
| Small Single | 2'5" x 6'2" | 75 cm x 190 cm |
| UK Single | 3'0" x 6'2" | 90 cm x 190 cm |
| Euro Single | 3'0" x 6'6" | 90 cm x 200 cm |
| Small Double | 4'0" x 6'2" | 120 cm x 190 cm |
| UK Double | 4'5" x 6'2" | 135 cm x 190 cm |
| Euro Double | 4'7" x 6'6" | 140 cm x 200 cm |
| UK King | 5'0" x 6'6" | 150 cm x 200 cm |
| Euro King | 5'3" x 6'6" | 160 cm x 200 cm |
| Super King | 6'0" x 6'6" | 180 cm x 200 cm |
| Emperor | 6'6" x 6'6" | 200 cm x 200 cm |
Una is one of the few mattress companies in the UK who offer emperor mattresses. We don't believe in compromising on comfort, so made sure that our Una Mattress™ Organic Mattress Delux was available in the emperor size, as well as all the other standard UK and European sizes.
Who is an emperor mattress good for?
Emperor mattresses can be a fantastic sleep solution for taller people and couples. With a standard UK double mattress measuring only a little over 6 feet long, if you're 5'10" or taller, you may struggle to spread out properly when you factor in things like pillows.
Emperor mattresses are fantastic for those with bigger and taller bodies, providing both the space and support that they need to sleep more comfortably. We spend roughly a third of our lives in bed, so why should you have to suffer in cramped conditions?
Space to move and stretch as we sleep is so important. When we aren't able to do this, it can lead to issues with your sleep, your back, and possibly even your relationship. Sharing a bed can be difficult at the best of times, but when you both have less space than you need, it certainly doesn't help.
As we mentioned above, an emperor mattress would add an extra 20 cm of width to your mattress compared to a Super King — and a staggering 65 cm more than a standard UK Double!
Why should I buy an Una emperor mattress?
At Una mattress, we pride ourselves on the craftsmanship and thoughtful design that goes into every one of our mattresses.
Many mattresses are manufactured with harmful microplastics and unnecessary chemicals, which can make their way into your home through a process called "off-gassing". However, our mattresses are certified organic. We make them with all-natural materials like cotton and ethically sourced wool for a mattress that is good for your sleep, as well as being better for the environment.
We also use natural latex — a healthier alternative to man-made materials like memory foam. To learn more about the benefits of natural latex for your sleep and the plant, feel free to visit our organic latex page for more information. And if you'd like to shop the full range, feel free to visit our online mattress store to see all the models we have available.
SUPER SOFT ORGANIC WOOL AND COTTON COVER
Allows air and moisture to circulate naturally so you don't get hot and bothered.
ORGANIC COMFORT LAYERS™
Comfy layers of all-natural organic certified latex foam – medium and medium-soft. Each layer has 7 zones that gently support your body's contours.
COMFORT YOU CAN CUSTOMISE
Simply arrange the layers of your mattress in the order that's comfiest for you, zip up your cover – and sweet dreams.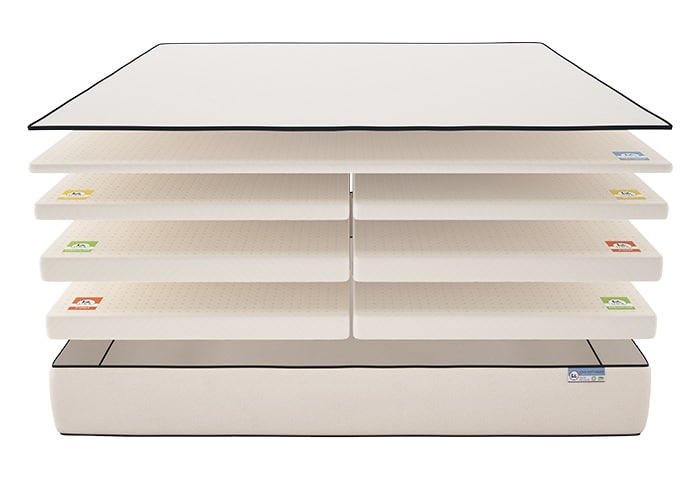 Adjustable firmness – on two sides in a unique mattress
Premium mattress with 7 zones
Belly sleeper, side sleeper, back sleeper – restful sleep in any position
100% natural: no chemicals, no microplastics
Free UK mainland deliveries & returns
Easy delivery & returns in 3 handy sized small boxes

Without doubt the best thing I have purchased in decades. This is money well spent. The mattress is so comfortable, and it feels just as heavenly to know it is made from such amazing materials. Amazing team at UNA too. Thank you so much; I love it and so does my sleep x
I recently purchased a double mattress…
I recently purchased a double mattress from Una Organic, and I am amazed by it! I am a CHEK Practitioner and sleep is something we evaluate with all our clients, I will be recommending Una Organic to as many people who will listen.
If you are unsure of which mattress to buy- I 100% can stand behind this one. ENJOY.
We had decided to replace our sprung mattress, we wanted something different. Reviewed all types on the Web we liked the idea of being able to alter the latex layers to suit our needs and chose the Una Elite and we haven't looked back.Excellent service and product