Organic Latex Mattresses UK
Design & Engineered in Germany, Available in the UK: No chemicals — strictly organic certified.
Your benefits with an Una Latex Foam Mattress:
Sleep like a prince or princess:
Choose a 100% natural latex mattress with adjustable firmness, to find the perfect fit for you, or your family.
Healthy for you and the planet:
Only the finest natural organic certified materials — no chemicals, fire retardants, or microplastics.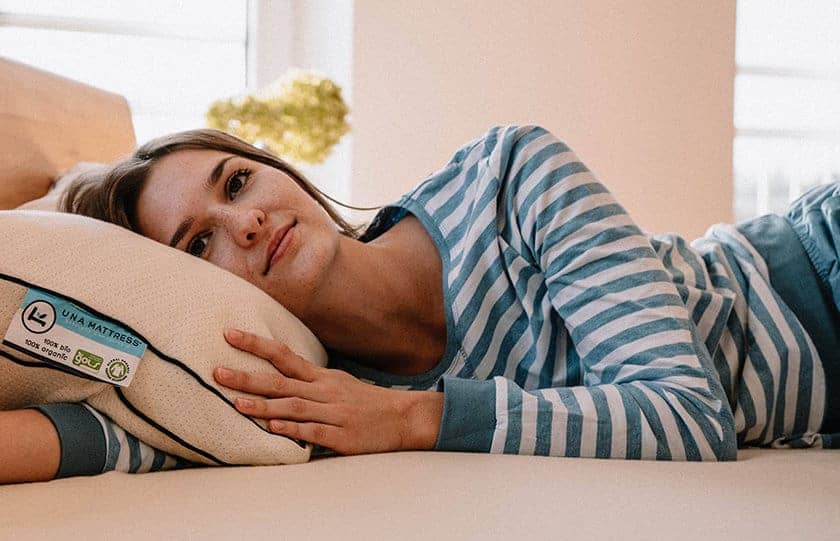 Click below to watch the video
Organic Latex Mattresses UK – 100% Pure Natural Foam
Una offers 100% natural latex mattresses, suitable for all shapes, sizes, and ages. Buying a healthy and environmentally friendly organic mattress in the UK shouldn't mean compromising on luxury or comfort. You can choose how firm you'd like your latex foam mattress, and our range of bespoke sizes (including single, double and king latex mattresses) will help you find the best latex mattress for you, your partner, and your family. 
What makes a mattress organic?
It may sound a little unusual to hear a latex foam mattress be called 'organic' — however, an 100% organic mattress is one which is made without any chemical pesticides, fertilisers, or other artificial components.
From the materials used, to the methods of production, organic mattresses minimise the amount of unnatural chemicals that you would come into contact with when sleeping on your mattress every night.
The best UK organic mattress retailer will thoroughly research where their materials come from, how they are treated before arriving to be assembled, and will always opt for natural production solutions.
What are the benefits of an organic latex mattress?
An organic mattress, particularly an organic latex mattress, can have a number of benefits for your sleep, health and overall wellbeing. 
Comfort.

A natural latex mattress is an excellent alternative to man-made materials like memory foam. Organically sourced from rubber trees, latex foam has a naturally springy and breathable texture, which makes it perfect for mattresses.

Synthetic foams are comfy, but often arrive with a strong odour, and through a process known as 'off-gassing', they can release foul-smelling and sometimes even harmful chemicals into your home. An organic 100% latex mattress will provide superior comfort and support by conforming to the contours of your body, without any harmful side effects or nasty smells! Whether you choose a single, double or king latex mattress, you're sure to be comfy on one of the best latex mattresses in the UK.
Temperature control.

One of the biggest criticisms that people have of memory foam and synthetic mattresses, is that they can get very warm. Many synthetic foams absorb and store body heat, which can make for a very sweaty, restless sleep experience — particularly in summer!

Natural

latex foam 

is highly breathable, and doesn't have the same issues with overheating. When paired with a 100% organic cotton cover, you can enjoy a sleeping environment which is both cool and comfortable.
Anti-allergy.

Latex is naturally hypoallergenic, and the tight cell structure in 100% latex foam mattress makes it a hostile environment for allergy-causing dust mites. Without any additional treatments, latex is resistant to mould and has antifungal properties, which make it perfect to sleep on. The natural breathability of latex also allows moisture to escape, so your mattress will stay fresh and clean for its entire lifespan.

Better for your skin.

Organic mattresses are free from trace chemicals, which can be irritating to those of us with sensitive skin. When you sleep on an organic cotton or wool cover, you can sleep safe in the knowledge that there have been no extra chemical treatments used that could react with your sensitive complexion. Simply pure, clean cotton and organic wool surround our latex foam mattresses — nothing more. 

Better for the planet.

If you're looking for ways to reduce your impact on the environment, choosing a natural latex mattress can be an excellent step. When you choose a mattress which is organic certified, you can sleep well knowing that no toxic chemicals or harmful manufacturing processes have gone into making your mattress.

Using natural materials and ethical practices can help to make sure that your mattress purchase is part of the solution to some of this century's most pressing environmental issues — not part of the problem.
What goes into an organic latex mattress?
The first ingredient in an 100% organic latex mattress is, unsurprisingly, organic certified and ethically sourced natural latex. Unlike memory foam, which is petroleum-based, natural latex foam is simply frothed-up sap, safely extracted from rubber trees and then baked into a mattress. Latex is the closest natural alternative to memory foam, and many people find that they prefer it for its  natural cooling properties and soft, yet supportive feel.
The next all-important component to a good organic mattress, is a cover made of all-natural fabrics. A real organic mattress cannot be considered organic, unless both the fillings and cover are free from unnecessary chemicals. 
There are a number of natural fibres which can be used to make mattress covers — some of the most popular being cotton, wool, and even hemp! Wool which has been ethically farmed and sourced is essential, and the inclusion of this in mattress covers can make for a cosy, warm sleeping surface that you'll love.
Cooling cotton is also a common feature in organic mattresses, for its smooth touch and breathability. Cotton plants, when sprayed with chemical stabilisers and fertilisers, are among the thirstiest plants on the planet. It can take six pints of water for one plant to grow a single cotton bud, whilst a cotton plantation using pesticides can essentially wipe out an entire local ecosystem. 
The organic cotton used in Una mattresses requires only half as much water as non-organic cotton and, as a result, can grow side by side with other plants without causing undue harm to the environment.
To learn more about toxins in mattresses and how organic mattress manufacturers like Una are trying to change the industry, visit our Non-Toxic Mattresses page.
Why should I choose an Una natural latex mattress?
Una organic natural latex mattresses use only the best materials, which are ethically sourced and above all, wonderfully comfortable.
The organic latex core which fills every Una mattress has been tested and certified to the Global Organic Latex Standard. Other materials used are also completely organic, including soft cotton, cosy wool and highly sustainable coconut fibre.
Comfort is our top priority, with our three customisable latex foam mattress layers to suit back, side and front sleepers alike. Alongside our special 7-zone technology which provides targeted support across your whole body, you can enjoy a soft surface which conforms to your bod, as well as strong support to align your spine. You can be assured that Una provide some of the best latex mattresses in the UK market.
We are passionate about our organic credentials, so you won't find any unnecessary chemicals in our mattresses. Unlike many other organic mattresses on the market, we don't use any glues during our manufacturing process — only the best-quality stitching and long-lasting design. Our cotton and wool covers are also naturally flame retardant, meaning they have not been treated with any harmful chemicals which can 'off-gas' within your home.
We're also proud to be selling the world's first carbon negative mattress, which is both plant-conscious and affordable. Other organic mattresses in the UK can be expensive, but we believe that high-quality, organic mattresses should be affordable for everyone — not just the privileged few!
At Una, we specialise in making natural latex mattresses for everybody. Each person has a different firmness preference, body type and budget, so why should everyone have the same type of mattress? We hope that our attention to detail can help you to make the investment in a high-quality latex foam mattress, with the knowledge that it's perfectly suited to you.
Shop our organic mattresses below, or visit our homepage for more information on our entire product range, from 100% latex mattresses, to latex pillows and mattress toppers.
Organic Mattress Features
Adjustable firmness – on two sides in a unique mattress
Premium mattress with 7 zones
Belly sleeper, side sleeper, back sleeper – restful sleep in any position
100% natural: no chemicals, no microplastics
Free UK mainland deliveries & returns
Easy delivery & returns in 3 handy sized small boxes
Which organic latex mattress is best for me?
" Best mattress ever. Very comfortable and great that you have the choice of soft, medium or hard and easily able to change them around for each side. "
Jenny C
Una Mattress™ Organic
Essential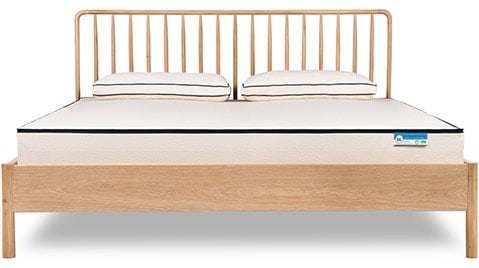 Una Mattress™ Organic Essential
From £650
(or £163 per month with 4 payment installments)
Great All-Round Organic Mattress
3 100% Organic Latex Foam Layers
Medium D85 & Medium-Soft D75 Layers
2 Firmness Configuration Options
18cm Height, all sizes available
Max Weight 90kg or 14 Stone per person
Una Mattress™ Organic
Delux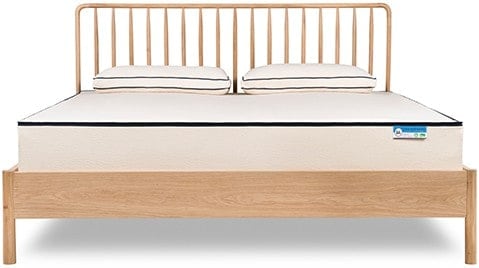 Una Mattress™ Organic Delux
From £850
(or £233 per month with 4 payment installments)
Extra Luxurious Organic Mattress
4 100% Organic Latex Foam Layers
Medium D85, Firm D95, & Soft D75 Layers
6 Firmness Configuration Options
24cm Height, all sizes available
Max Weight 125kg or 20 Stone per person

"Brilliant mattresses, firm yet forgiving, much more comfortable than so-called memory foams or contour-hugging mattresses, and they just FEEL great... they have that X factor that makes you really enjoy lying on them." - Kevin H

"Without doubt the best thing I have purchased in decades. This is money well spent. The mattress is so comfortable, and it feels just as heavenly to know it is made from such amazing materials. Amazing team at UNA too. Thank you so much; I love it and so does my sleep." - Kate