Choosing the right latex mattress for you and your family is key to transforming your night's sleep so that you and the family wake up refreshed and revitalised, day after day.
So let's dive in under the bedsheets and explore in a little more detail what exactly a latex mattress is and how it can transform your life!
Bur first, let's better understand why sleep is so important to our mental and physical health…
How Much do we Sleep in a Lifetime?
The average person spends a staggering amount of time in bed. In fact, we spend significantly more time in bed than we do anywhere else. To be more specific, a normal lifetime experiences 26 years of sleeping, with an additional 7 years spent trying to get to sleep.
So, now you know, roughly 33 years of your life takes place on a mattress, it need-not-be more obvious, that investing in the perfect mattress is both a wise and worthwhile decision.
The mattress world delivers many options, from open spring to classic spring, to memory foam and even hybrid mattresses. The focus of this piece, however, reveals the unrivalled benefits of natural latex mattresses, particularly all-natural, Gold-Standard organic latex mattresses – and how an investment in an organic latex mattress prioritises maximum comfort and sustainability, both for the individual and the environment.
But before we get into it, firstly and foremost, what even is latex!?
What is Latex?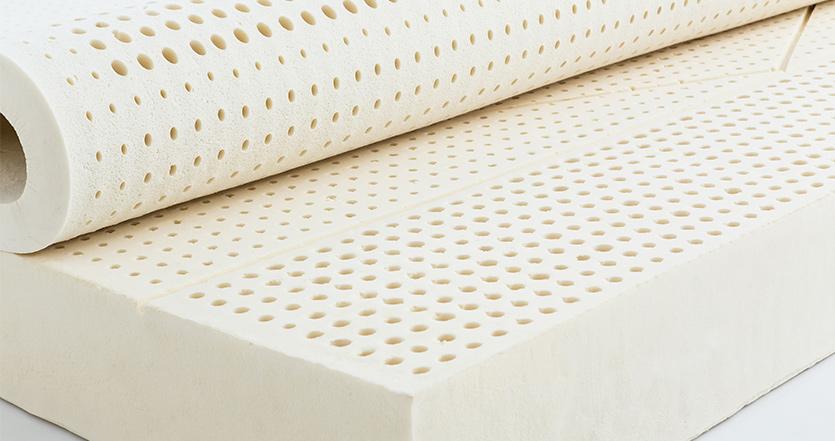 Scientifically speaking, latex is an emulsion of polymer microparticles in an aqueous medium solution. This complex and natural process of emulsion includes particles such as, alkaloids, gums, proteins, sugars, starches, oils, tannins, and resins, which coagulate on exposure to air.
In other words, Latex is tree sap. Or rubber tree sap to be more exact. (Hevea Brasiliensis) Its origin was named by tribes who first cultivated the plant.
They named it ""caoutchouc", "caa" as 'tear', and "ochu" as 'tree'.
Now take latex into its modern setting and we see its common association with plastic rubber products, such as latex gloves, condoms and clothing. Although latex in its essence is a completely natural material, unfortunately, by demand of the industry, we find the majority of latex products tainted with chemicals and plastics. This, like the many other forms of unsustainable manufacturing, results in damage to the environment and potential health risks to the individual from the products themselves.
What is a Latex Mattress?
A latex mattress consists of latex foam working alongside springs or reflex foam, with 2 common methods of
manufacturing
:
Dunlop – In one continuous pour, the latex fills the pre-designed mould. This process creates a firm bottom and softer top to the mattress, ideal for pressure/pain relief.
Talalay – This process is more complicated, involving more steps and other ingredients. The latex is poured partially, before being frozen in a vacuum to expand into a complete foam. This process allows the latex mattress to be less dense and more consistent throughout.
The suitable thickness to any latex mattress should be anywhere between 6 – 13 inches.
With its potential as a completely natural material, latex can combine with other natural components to create an organic, 100% all-natural mattress filling. Unfortunately, the majority of latex mattresses on the market are made with petroleum to create a synthetic latex foam. This man-made synthetic, with already being environmentally unfriendly, also releases unnatural and unhealthy fumes into the air. This can result in a disturbed sleep, especially at the beginning before the mattress has had enough time to properly air out.
So, don't be fooled by mattress manufacturers selling 'natural' latex as being completely natural. There is a clear difference between synthetic latex foam and natural latex foam.
These are the 3 standards within the natural latex mattress category:
Normal –100% natural latex
Blend – Synthetic Latex
Gold-Standard – Organically certified.
Una Natural Organic Certified Latex Mattresses and why all Latex mattresses are not 'born equal'

It should now be clear, that not all mattresses are born equal, let alone latex mattresses themselves! Some will go that extra mile, in seeing the potential of latex to remain a fully natural and sustainable product, which benefits the environment, the health of the individual, as well as ensuring a superb sleeping experience.
So, if you want a truly natural and fully sustainable latex mattress then you should only consider the organic Gold-Standard. What defines a Gold-Standard latex mattress is that it is organically certified by the Global Organic Latex Standard (GOLS). This certification relies on not only the mattress remaining 100% natural, but also that organic standards of production and trade are met throughout the manufacturing process. L –
This procedure guarantees a fair trade and eco-friendly product, whilst maintaining the sap is grown organically without pesticides. All in all, a fully natural, healthy and sustainable product.
Here at UNA, we only sell 100% organic latex mattresses. All of our affordable and high-quality mattresses have 7 layers to comfort the body, whilst being encased in an organic wool and cotton cover, allowing air and moisture to circulate naturally. Any UNA mattress can be deconstructed and tailor-fit to any body type, ensuring for a perfect nights sleep.
What are the benefits of a latex mattress?
Durability – Latex mattresses maintain their quality and comfort over many years, commonly outlasting all other mattress types.
Pressure-relieving – The elastic qualities in latex sufficiently bends to mould quickly to your body.
Hypoallergenic – Due to latex natural properties and structure, it is resistant to bed mites.
Therefore, creating a healthier and cleaner sleeping environment.
Eco-friendly – A natural, organic latex mattress is sustainable both to the consumer and the environment.
Ventilation – Latex is an extremely breathable material. This means you will not overheat while sleeping, as the mattress stays cool at all times.
Side-Sleeping – Latex mattresses are perfect for side-sleepers. The latex material is ideal in its cushioning and contouring of the body on its side because it keeps the spine aligned.
What is the difference between foam and latex mattress?
Now we know the difference between natural, synthetic and Gold-Standard organic latex mattresses, why choose Gold standard latex over the remaining competition? Firstly, the natural properties of organic latex means it is unrivalled in being the most environmentally friendly. The rubber trees used to make latex annually convert over 90 million tonnes of carbon into oxygen.
A conscious decision to become more healthy and sustainable can be materialised literally in the mattress you sleep in every night
!
Secondly, mattresses made from unnatural materials containing chemicals can be volatile to people with a heightened sensitivity. These chemicals can be harmful to the sleeper as well as to the environment. Memory foam mattresses for example, despite claiming to be more comfortable in moulding more precisely to the body, contain chemical additives in the polyurethane material which releases a chemical smell similar to freshly painted walls.
This can create difficulty in sleeping, such as headaches, dry throats, a blocked nose and coughing.
What we wake up to every morning and curl into every night, ought to be perfect to our bodies preferences in both comfort and conditioning. An organic Gold-Standard latex mattress will exceed this two-fold! By increasing the health of the individual, and by also contributing towards the sustainability of the planet. The overall decision to live healthier can be realised in sleeping healthier too. Quite simply, help save the planet whilst you sleep!
Now, why stop there? Did you know organic latex foam is also available in the form of the pillow! Due to the natural properties of organic latex, the pillow is once again hypoallergenic, durable while remaining cool at all times, even at the height of summer.
As well as your mattress needs, UNA also offers 100% organic, breathable and even height adjustable latex pillows, which are arguably the best pillows on the market today. All UNA products are Gold-Standard organic, so remain 100% natural and eco-friendly.
So explore your Una Organic options today, match your perfect mattress and pillow set, save the planet, and get the best sleep of your life tonight!