Organic Mattresses
Design made in Germany: No chemicals – strictly organic certified.
Your benefits with an Una Mattress™:

Sleep like a prince or princess: Most comfortable mattress with adjustable firmness for you (or you and a partner each your own firmness)
Healthy for you and the planet: Only the finest natural organic certified materials – no chemicals, no fire retardants no micro plastics.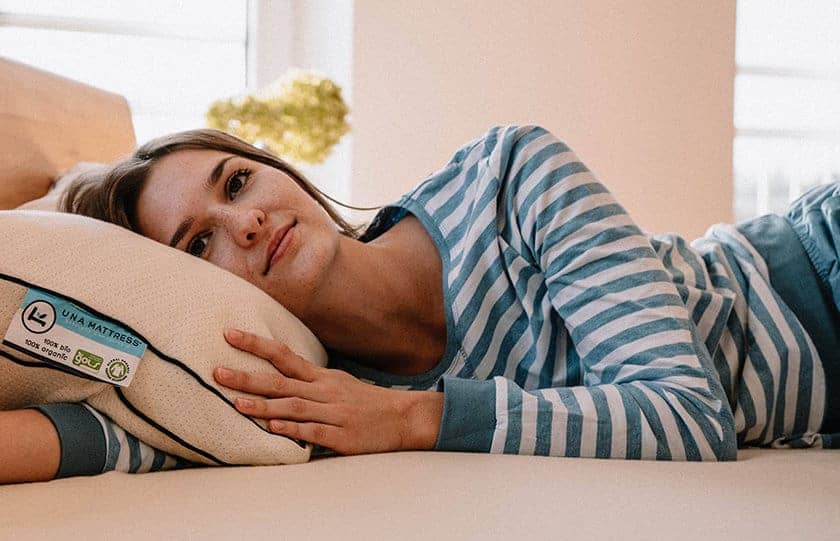 Click below to watch the video
Una offers organic mattresses suitable for all shapes, sizes and ages. Buying a healthy and environmentally friendly organic mattress shouldn't mean compromising on luxury or comfort; different firmnesses, specialist mattresses and bespoke sizes enable you to find the mattress to suit you. What is an organic Mattress?
All Organic Mattresses
It may seem slightly unusual to see a mattress referred to as 'organic' however the organic cotton, wool, coconut fibre and natural latex used in our organic mattresses collection have tremendous health, environmental and comfort benefits. All of our organic mattresses are entirely free from chemical pesticides, fertilisers or any other artificial components. These chemicals can be harmful to your heath, as well as the environment. The chemicals in non-organic cottons and wools can cause discomfort to those with sensitive skin or any skin conditions. Organic mattresses can't improve your skin, but they can help to ensure you sleep in the most pure and clean environment possible. Cotton plants, sprayed with chemical stabilisers and fertilisers, are among the thirstiest plants on the planet. It takes six pints of water for one plant to grow a single cotton bud, whilst a cotton plantation can essentially wipe out an entire local eco-system. The organic cotton used in our organic mattresses requires half the water of its non-organic brother and, as a result, can grow side by side with other plants. Natural latex is the closest natural alternative to memory foam, in terms of its luxurious feel and bodily support. However, unlike petroleum based memory foam, natural latex is not made using artificial chemicals. Natural latex is simply the frothed -up sap of the rubber tree, expertly baked into a mattress. Natural latex, along with organic wool, has fantastic temperature and moisture regulating qualities (a common complaint with memory foam is that it is prone to overheating). Una specialises in making organic mattresses for different body types and preferences. Everyone has different preferences, body types and budgets, so why should everyone have the same type of mattress? Our organic mattresses are specifically engineered to suit all kinds of sleepers. Whether you sleep on your side, front or back, or a combination of the three, Una's mattress will be suitable for you because of our three comfort layers that are cumstomizable. Every mattress has a slightly different feel to it, just like every person has a different preference. Because of our special 7-zone technology both side sleepers as well as front and back sleepers will be happy with our mattress. The attention to detail enables you to make the investment in a high quality mattress with the knowledge that it's perfectly suited to you.
Adjustable firmness – on two sides in a unique mattress
Premium mattress with 7 zones
Belly sleeper, side sleeper, back sleeper – restful sleep in any position
100% natural: no chemicals, no microplastics
Free UK mainland deliveries & returns
Easy delivery & returns in 3 handy sized small boxes
Which mattress is right for me?
" Best mattress ever. Very comfortable and great that you have the choice of soft, medium or hard and easily able to change them around for each side. "
Jenny C
Una Mattress™ Organic
Essential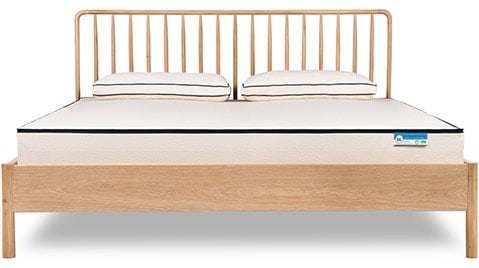 Una Mattress™ Organic Essential
From £650
(or £25 per month with payment installments)
Great All-Round Organic Mattress
3 Organic Foam Layers
Medium D85 & Medium-Soft D75 Layers
2 Firmness Configuration Options
18cm Height, all sizes available
Max Weight 90kg or 14 Stone per person
Una Mattress™ Organic
Delux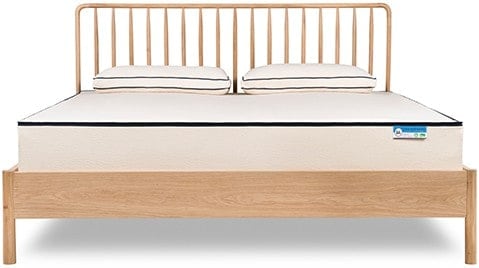 Una Mattress™ Organic Delux
From £850
(or £25 per month with payment installments)
Extra Luxurious Organic Mattress
4 Organic Foam Layers
Medium D85, Firm D95, & Soft D75 Layers
6 Firmness Configuration Options
24cm Height, all sizes available
Max Weight 125kg or 20 Stone per person