Why Organic Mattresses are important?
Did you know that the average person spends about ⅓ of their lives sleeping, that's a pretty considerable amount of time! So of course, naturally we want to have the best night's sleep we can, and sleeping on an organic mattress can deliver you that precious rest time, every time!
In this article, we will explore how an organic mattress can lead to a richer and safer sleep for you and your family.
What is an Organic Mattress?
Before we get into the nitty-gritty of how organic mattresses can improve your sleep, let us first establish what exactly is an organic mattress?
An organic mattress is made from a combination of natural and non-toxic materials such as organic cotton, organic wool, and organic latex. Note, the organic materials (wool, cotton, latex, etc.) from which the organic mattresses are made from must be produced organically. That means, at no point in the production process were artificial chemicals introduced. Plus an organic mattress is totally eco-friendly!
Who Certifies How Organic a Mattress is?
The term organic has become a key selling point these days against a backdrop of a consumer market shift favoring natural products. So businesses like to brand their products 'organic' just so they can sell. While it might be true their products are organic, it is a whole different matter on just how organic, organic is!
Sadly, green-washing is all too common in business. Most brands advertising 'organic' products often have just one component meeting the definition. The rest of the components are synthetic and filled with chemicals, so much so that the product is toxic to your health, your family's health and the environment.
Luckily, there are still some authoritative and independent oversight bodies that can certify a mattress as organic. They include the Global Organic Textile Standards (GOTS) and the Global Organic Latex Standard (GOLS). These organizations conduct on-site visits to the production plants and verify just how organic is a given mattress brand.
Why is Buying an Organic Mattress Important?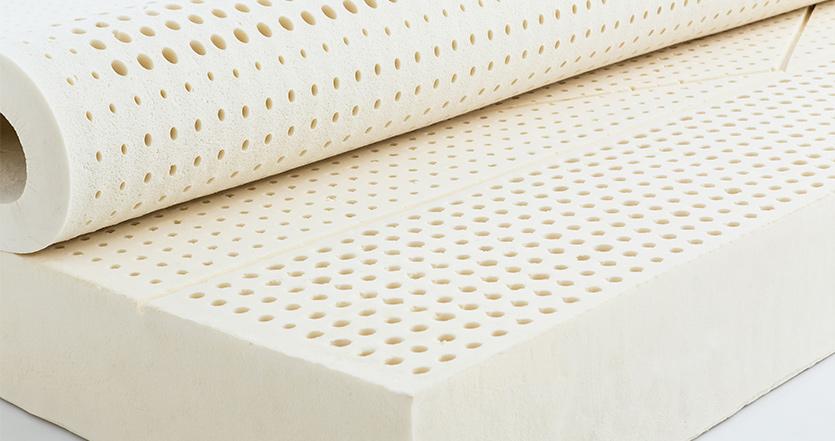 Organic mattresses come with the same health and environmental benefits that you get with organic foods; no synthetic chemical additives; and the fewer pesticides and chemical residues a product has, the better it is for your health and the environment. A summary of some of the health benefits of organic cotton, organic wool, and organic latex mattress are as follows:
The latex, cotton, or wool that goes into the production of the organic mattress are grown naturally, and synthetic chemicals such as pesticides or fertilizers are not involved in the production process. Additionally, during the production process of the mattresses, there are no synthetic chemicals or components added.
Latex by nature is inherently hypoallergenic, anti-bacterial, anti-microbial, and water-resistant. That makes an organic latex mattress ideal if you want to fight off dust mites, fungus, bedbugs, mold, and bacteria among other allergens. The same thing applies to organic wool mattresses.
Ideal for Body Heat Regulation
Organic mattresses stay warm during cool weather and cool during hot weather. All thanks to its organic latex, organic wool, or organic cotton components that naturally wick away body moisture. Thus resulting in a more peaceful sleep as you are unlikely to experience too much heat or cold while sleeping.
Support that conforms to Body Shape and Pressure Points
An organic mattress will give you more innate support compared to a conventional one. That is because of the nature of the latex, cotton, and wool they are made of naturally conform to the body's shape and pressure points. For instance, an organic latex mattress will distribute your body pressure evenly across your body. The organic wool mattress has many air spaces in between making it a better cushion for your body and alleviates the pressure points.
Best for Infants and Toddlers
Infants are particularly sensitive to their environment. As discussed, an organic mattress is hypoallergenic which is ideal for a baby's cot. The mattresses' inherent ability to regulate temperature also makes them ideal for small children and babies, since young ones tend to cry a lot when they are too warm, and you definitely do not want them feeling cold. The mattresses' natural ability to regulate temperature makes them ideal for babies and toddlers' beds.
To learn more check out our Cot Mattress Safety and Buying Guide.
Are Organic Mattresses worth it?
There are many other benefits of organic mattresses not mentioned above. That includes organic latex mattress' ability to mold around the human body as you sleep, giving you more comfort. It is also elastic enough not to pack down and compress as you find with synthetic foam mattresses. The folding around the body also isolates body motion, keeping you in one place, thus avoiding disturbing your nights' sleeping patterns. Una Organic mattresses are also flame resistant and contain natural chemical retardants.
Top Organic Mattress UK brands to buy?
Now that we have established what an organic mattress is, what they are typically made of, and the benefits of these mattresses based on their components. Let us now delve into where to buy the best organic mattress on the market in the UK today.
As a consumer, it is important to be fully informed before making a purchase decision, more so sadly because there are many businesses out there trying to pass off regular mattresses as organic mattresses.
It, therefore, calls for due diligence on your part to sieve out the fakes from genuine. That said, below are some of the top organic mattress brands in the market:
The Una Mattress brand does not only ticks all the boxes mentioned above, but can also be customized in terms of firmness differently for two people sleeping on the same bed. This is ideal for partners who have various preferences on mattress firmness. The mattress comes in separate parts that you can customize to your preference during the assembly.
Visit our online shop to browse our full range of natural latex mattresses, to find the perfect one for you!
This mattress is made up of a Dunlop latex comfort layer with pocket coils measuring some 8-inch. It is quite durable and fully organic, so you will be sleeping on it for a long time.
The EcoCloud brand of mattress is a hybrid, with a medium feel for a soft and comfortable sleep. It is suitable for people weighing not more than 230 pounds and prefers sleeping on their sides. Those weighing more than that should go for other organic mattresses on our list with a firmer latex.
Awara is a hybrid mattress using a latex layer approved by both GOLS and Rainforest Alliance. Although the cover of the mattress is made out of a natural cotton layer. Its internal components include 9-inch pocketed coils, which reviewers claim to be thicker than what you get in other mattresses of its category.
This organic mattress is made out of wool and plant-based polylactide (PLA) materials; which have been quilted into the cover. The PLA material is produced from sugarcane, cornstarch, and tapioca among other natural materials. They are then blended to make a material for a breathable surface for the mattress.
What Else Can I Buy for My Bed that is Organic?
Organic Pillows and Beddings
Now you have decided on the right mattress, why not look at complementing it with the right organic pillow and other organic bedding products!
There are numerous options for organic pillows and bedding, which when all combined make for a healthier all-organic sleep. Check out our range of organic natural latex pillows here.
For further reading, you can also check out our blog on 'Natural Latex Pillows'.
Certified Organic Mattress UK: Una Mattress
Here at Una Mattress, we want you and your family to have the best night's sleep possible. So please check out our range of organic natural 100% certified mattresses and pillows today, and come join the organic revolution!